Welcome to The Guildford App's list of the top 10 bars and pubs in Guildford! While Guildford may be a historic town, it definitely has its fair share of lively nightlife, too. The town is not short of bars and pubs to suit everyone. Whether you prefer a relaxed glass of wine, or a few cocktails with friends, you're sure to find what you're looking for in some of Guildford's popular establishments. If you're looking for your next favourite place to visit, this list should hold the answers for you!
So, what are the top 10 bars and pubs in Guildford, according to the Guildford App?
Five & Lime is a guaranteed fun night out
Address: 3 Leapale Road, GU1 4JX
Popular among students and locals alike, this is a lively bar right in the centre of Guildford's heart. It's a perfect evening destination for people who don't fancy a nightclub but still want a great night out. With amazing music and regular themed nights, Five & Lime is popular in the town for a reason! And, they often even have live music to really get the party going.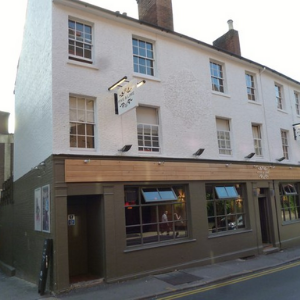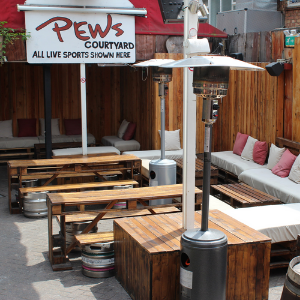 Pews is a hidden gem
Address: 21 Chapel Street, GU1 3UL
This welcoming establishment describes itself as 'Guildford's Best Kept Secret' and we can see why it attracts a dedicated crowd! Based out of one of Guildford's last remaining public houses, the venue is steeped in history as well as fun. It has an outdoor courtyard with a projector that often shows sports matches, so it's also a great place to go for sports fans with a relaxed but lively atmosphere.
Corkage offers an amazing wine selection
Address: 60 Quarry Street, GU1 3UA
If you prefer fine wine bars to a busy bar, Corkage is sure to be the one for you. They are an independent, family-owned wine shop and bar tucked just off the High Street. Inside, you can find a big range of amazing wines to try or purchase. And, with regular events such as wine tasting evenings, it's the perfect place to enjoy a low-key and relaxing evening with friends.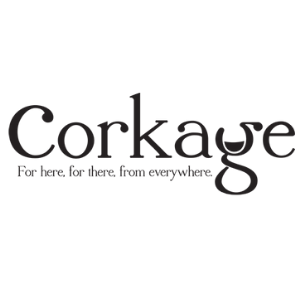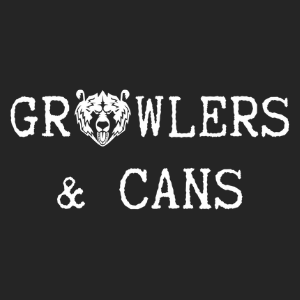 Growlers & Cans is great for craft beer lovers
Address: 24 Chertsey Street, GU1 4HD
If you enjoy craft beers, Growlers & Cans is the place on this list of the top 10 bars and pubs in Guildford that you should visit! You can also find local and worldwide wines, artisan gins, mixers, and coffee. So, there really is something for everyone to enjoy here! If you find a craft beer that you particularly love, you can also purchase many of the beers that they stock to take away with you.
Tattam's is perfect for eating and drinking
Address: 6 Tunsgate, GU1 3QT
Tattam's is a cafe and bar that is based out of Tunsgate in the centre of town. The relaxed and fun atmosphere is popular with many locals who especially love the interesting wine selection that they have on offer! Tattam's also offers a mobile bar option to bring their amazing drinks to your special event including weddings, parties, and corporate events. With a small food offering using produce from local suppliers, this is a great place to visit for both food and drinks!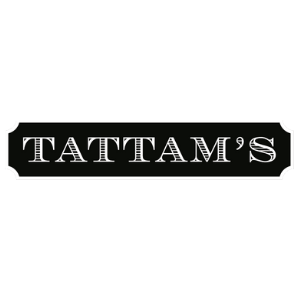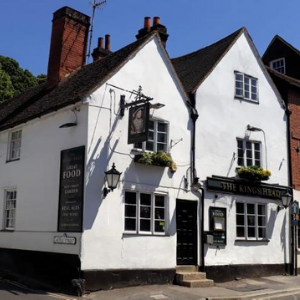 The King's Head is a historic location
Address: Quarry Street, GU1 3XQ
This pub is based out of a building that dates back to the 16th-century, so there's plenty of history that creates a great atmosphere! Alongside all of the drinks you'd expect from a quality pub, they also offer a traditional and delicious pub menu for you to enjoy. If this wasn't enough, they also regularly put on themed nights including quizzes, open mic, and curry nights. If you're after a traditional pub with lots to offer, this is the place for you.
The Keep is a great traditional family pub 
Address: 29 Castle Street, GU1 3UW
The Keep describes itself as a traditional English pub. And, that's exactly what it is! Serving a range of ales, beers, gins, and more alongside great food, you can't go wrong here! It's a great place to visit with something for the whole family to enjoy.  The interior of the pub is also cosy and atmospheric, with beams and brickwork everywhere you look. If this wasn't enough, they also regularly have live music acts for customers to enjoy.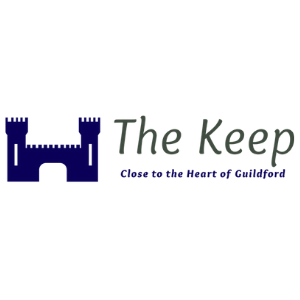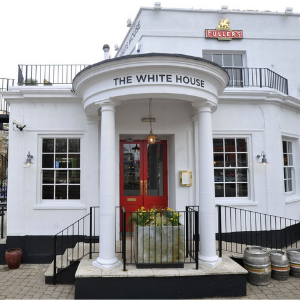 The White House has a great location by the canal
Address: 8 High Street, GU2 4AJ
This traditional pub is well known in Guildford for its great range of drinks, and a delicious menu that offers both traditional pub food and more creative options! They've also got a really friendly and welcoming team that makes this pub a pleasure to visit. Situated alongside the canal, it's the perfect place to enjoy a drink or a meal outdoors while you watch the water.
The Guildford Tup is friendly and welcoming
Address: 44-46 Chertsey Street, GU1 4HD
This is a welcoming pub with a great atmosphere to enjoy! They've also got a great beer garden which is perfect to spend a summer's afternoon in. And, with plenty of live music nights, it's also a lively place to spend an evening with friends. Delicious food is on offer too, so this is another great traditional pub to visit on this list of the top 10 bars and pubs in Guildford!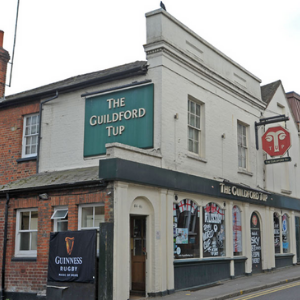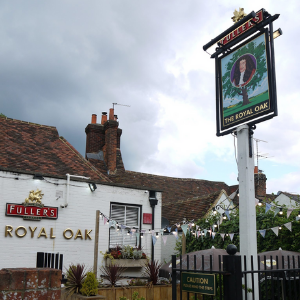 The Royal Oak
Address: 15 Trinity Churchyard, GU1 3RR
The Royal Oak prides themselves on the high-quality food and drink that they serve at their traditional English pub. They are well known in the area for their homemade food and the good range of ales that they have on tap. Tucked just off the high street, this pub offers a relaxing place to get away from the busy town centre for a while!
The top 10 bars and pubs in Guildford: conclusion
Whatever you're looking for, there's sure to be a bar or pub in Guildford that suits what you're looking for. From lively venues to more chilled-out family pubs, there really is something for everyone. So, if you're looking for your new favourite establishment, why not give one of these a try for an enjoyable experience?